File Details
Version:
Age of Empires II: DE
Style:
Mix
Screenshot:

This is my first scenario being submitted for an AoKH contest.
The story of Gensokyo (land of fantasy) begins here. At 16th century, during the chaotic Sengoku period.
In the face of an unknown curse, the human village is infested with a serious plague. However there has been a big cover-up that led to many lives being lost. This ultimately leads to Youkai involvement, and they will find any excuse to start a conflict with human...
______________________________________________________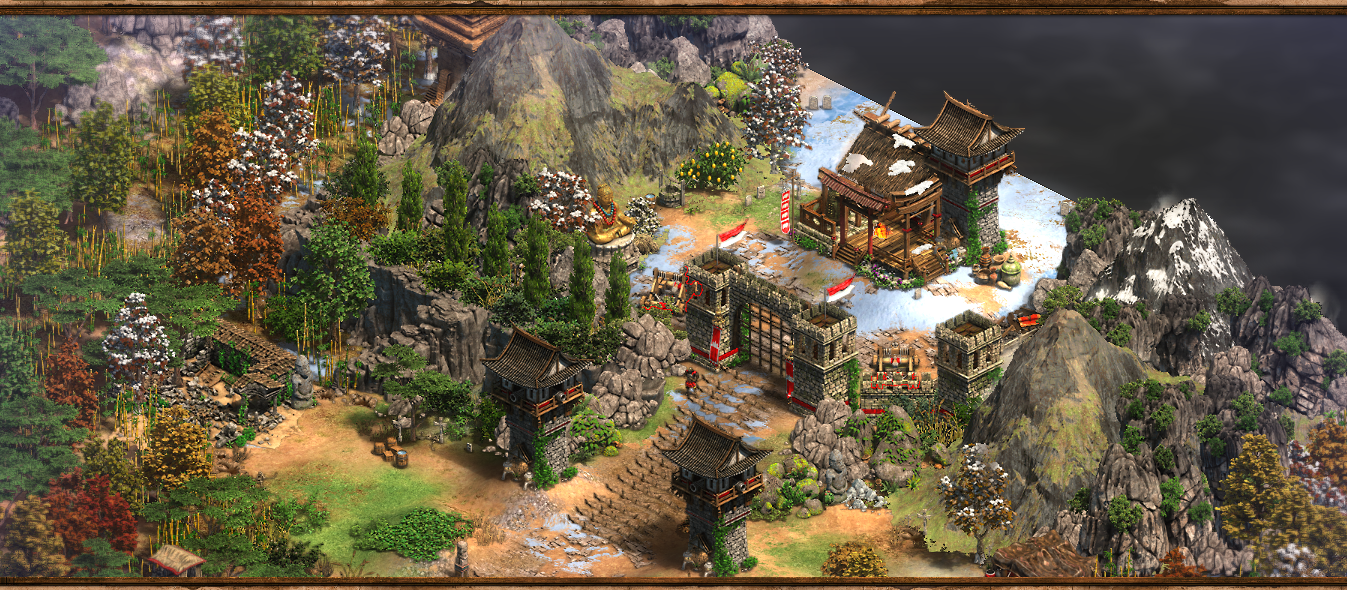 Some features include:
Not purely a DTS scenario, lots of different stages and objectives.
Custom units and Heroes with different roles and abilities.
Dynamic soundtracks and sound effects, now with intro and outro slide sequences!
Epic bossfights and endless waves, with at least over 1 hour gameplay, complete the objective before you get overruned!
Over 800+ triggers, inspirationally designed to bring fantasy to life.
There are 3 difficulty levels which differentiate your playstyles:
- Easy: For beginners who aren't good at microing, enemy waves come slowly and you're rewarded with extra relic gather rate.
- Normal: For normal players whose skills are exceptional. Enemy waves are enhanced and extra challenges are being thrown at you. Paying attention to the flow of gameplay should give you a clear advantage. Be careful though, or you'll get that taken away from you.
- Lunatic: The most difficult mode, requires you to know what to do beforehand, and leaves little room for mistakes. Waves are merciless, pay attention at all times or you'll be crushed. A difficulty level only for crazy snake peoples.
Any question, feedback or suggestion are welcomed. You can contact me via this email address: duyhung2h@outlook.com or my personal Discord through this id: duyhung2h#0206
Special thanks to BOT_Alan, Thanathor and my Discord friend EaterEater for testing the map!
Gensokyo is a fictional region in feudal Japan, taken place in the Touhou Project series, and this is an original fanmade story. All rights reserved.
______________________________________________
Patch notes:
v1.0.5: Content update:
Difficulty changes
New heroes
New soundtrack for boss battles
Custom campaign background
More direct instruction to guide players completing vague objectives
v1.1.1: Content update:
- New mechanic: Enemies espionage, which can call in special units if not being killed fast enough.
- New mechanic: Enemies can set up camps that can potentially spawn more units.
- Added a lot of unique upgrades and new units (Oni has been buffed drastically)
- Added gossips around the village which add more context for the story
- New alert that warns you when to use the 3rd Eye if it's crucial to advance through the story
- Added more instructions in the "hint" section
- Engineer costs less gold, and can build bombard towers. You can now straight up build Keep, which is also upgraded with Yasama. More upgrades are included in the Siege Workshop.
v1.2.3: Another big content update:
- Now the main character has the ability to imitate slain enemies spell cards (+3 new skills, depending on the difficulty), upgrade her hp each time she levels up
- Fixed a bug where souls are stuck by pathfinding at the mountain entrance
- Updated map visuals and added new eye candies
- Fixed various dialogue lines
- Fixed an unintentional bug that captured buildings overlaps player/enemy units
- Fixed a rare bug where relics got stuck on an invisible tile
- Added description for bought items from vendors
- Now your population limit will increase over time starting from wave 10, but you start at 100 pop cap.
- Historical unit names and more variation for enemy units
- Intro and Outro slides with images and music, which explain and display background lore about Gensokyo
- New and improved boss/hero skills mechanics
- Added various new soundtracks and sound effects
- More hints and info about various things
- Reworked dialogue lines and various other things
- Ballance changes and more sensible difficulty levels
- Fixed vendor not upgrading unit attributes after purchasing (and added a new vendor)
- Fixed a rare bug where you cannot progress to DTS stage
- Added Wokou Pirates and pirate invasion events
- Added new eye candies throughout the map
- New dialogue system for vital cutscene throughout the story