The Legend of Kuzon
Part 2
Defending the Land
---
Overview
---
Now that the Huns have taken Kuzon for themselves, we need to defend it from the Koreans who have a strange plan to take it back. You will find out the plan before you start the scenario, but I'll let you find out the plan once you download it.
This is a continue of the trilogy, "The Legend of Kuzon" that I submitted. I reccomend playing that before this, since it is major in the story.
As the biggest tip of the game, I suggest getting to Jastoff Island as fast as possible, but at the same time, I suggest saving as much room on your island as possible. This is important, or else something like this will happen: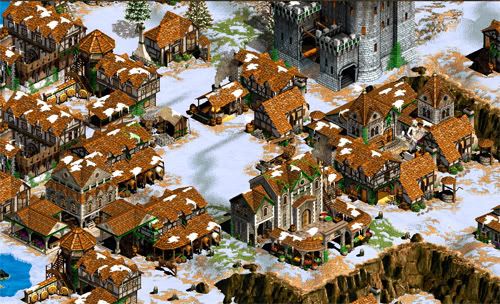 History
---
This is an extremely icy land. Most of the water is difficult to sail through because of all the iceburges. Koreans took this place last Winter, but it was discovered last fall. The fleet of Korean ships that came and found this land returned beaten up because of the iceburges. The Koreans hatched a plan to claim the land the following Spring, but word got out about the land. The Koreans wanted the land all to themselves, and thought that the horror stories of no one being able to survive through winter would not keep people from going and claiming the land. So they set out in winter with a huge number of ships, and captured the whole land. Then, in the Spring, the Japanese came with a massive navy and attacked Dunobi Island. But then, the Huns came in. We wanted the land. We took Dunobi Island not by force, because when the Japanese saw our large force they laughed, but when they realized that three quarters of the ships were filled with seige weapons, they surrenderred immediatly. We allowed them to escape, and now are in a friendship with them.
After our victory on Dunobi and Korgifire, we continued forward and attacked the Koreans on Tavern Island. While we were doing that, our allies, the Huns in the South, grew economically, and are ready to sail over and set up on Jastoff Island, which is vacant, but was soon to be taken by the Koreans. We stopped them though, just in time. Now we have all of Kuzon under our reign, we need to keep it so.
Plan
---
This is the second scenario in a trio. Unless there is a change in plans then I will release all of the episodes in order of the three. Also, I highly doubt there will be more than three, I believe after completing Kuzon I will move onto another campaign, but I might like to continue, so there might be more than three to come. For now though, the plan is to have three main scenarios: